ALMOSTEVERYTHINGHAPPENS (2016)
The choreography ALMOSTEVERYTHINGHAPPENS is based on a continuous stabilizing and destabilizing of a shared environment. Its performance is in finding a relaxed way of dealing with shared destabilizing processes through slowness and sensitivity. The indirect social practice and performance of Flirtation is not about seducing, winning or gaining the other but rather about the pure play of desire without end. This performance results from a research about Disjunct Conversations. and The Rhetoric of Flirtation made at P.A.R.T.S. in context of the research studios.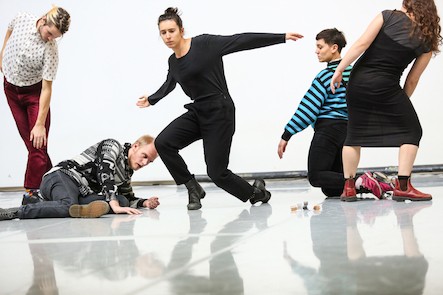 (c) Tine Declerck
Choreography and dance by Klaas freek Devos in collaboration with Liza Baliasnaja, Stefan Govaart, Patrik Keleman, Azahara Ubera Biedma and Talia de Vries
Composition by Nina Fukuoka performed by Ensemble Fractales
Live programming and electronics by Quentin Meurisse
Dramaturgical coaching by Bojana Cvejic
Thanks to Brunno Benne, Bryana Fritz and the coordinators and participants of the P.A.R.T.S. research cycle and GAME (Gent Advanced Music Ensemble).
Perform
First Public showings were presented in P.A.R.T.S. Brussels and Concerthal MIRY Gent, December 2016.